JOIN US THIS SUMMER!!
August 1st-5th 6:30-9:00 p.m.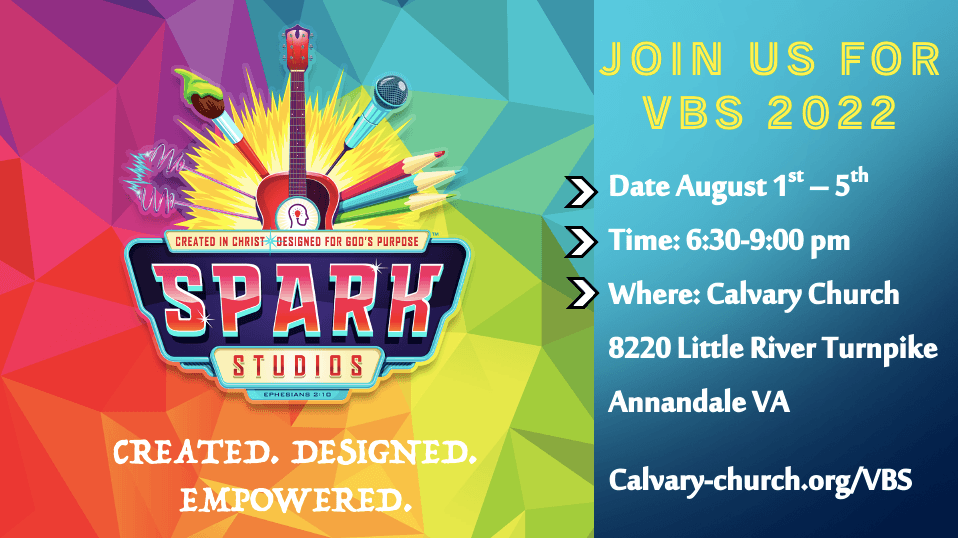 This summer our kids will learn that God's creativity didn't stop in Genesis. The Master Artist is working to redeem, reclaim, and transform us–His creation–to the design He planned for us. Kids will see the beautiful truth that they are God's workmanship as they learn to use their talents to bring glory to Him.
Registration
Vacation Bible School is an evangelistic outreach from Babies–6th grade and will take place August 1st-5th from 6:30 p.m.–9:00 p.m. There will be games, crafts, Bible stories, praise and worship, and much more! This year's theme is "Spark Studios" so get ready for some creative fun as we celebrate the unique gifts God has given us!
Want to Volunteer?
Volunteers are required to go through one of our VBS trainings and must provide a reference. Each of our volunteers are background checked and required to go through our online Child Safe Training. This helps us to be proactive with the safety of our children as we are entrusted to care for them. If you are interested in volunteering, please click volunteer button.
We would love to connect with you!
Want to connect with Calvary Church? Click the button below for more information or join us Sunday at 10:30 a.m. for our worship service.