WELCOME!
We are so excited you are interested in Calvary Church! We want to help make your first experience a great one! Here is some information we hope can be helpful for your first time visiting.
SERVICE TIMES
SUNDAY SCHOOL
We have two adult Sunday School Classrooms at 9:30 AM
WORSHIP SERVICE
Coffee & Doughnuts at 10:00 AM
Calvary Church Service - 10:30 AM
CALVARY KIDS
Our Calvary Kids participate in Bible Quizzing at 9:30 AM
Pre-school Kids start at 10:30 AM
Elementary Kids join their class after worship
*Every 5th Sunday we have Family Worship for our Elementary Kids
LOCATION & DIRECTIONS
We are located on Little River Turnpike - just off I-495 exit 52A (towards Fairfax)
Calvary Church
Annandale Campus
8220 Little River Turnpike
Annandale VA 22003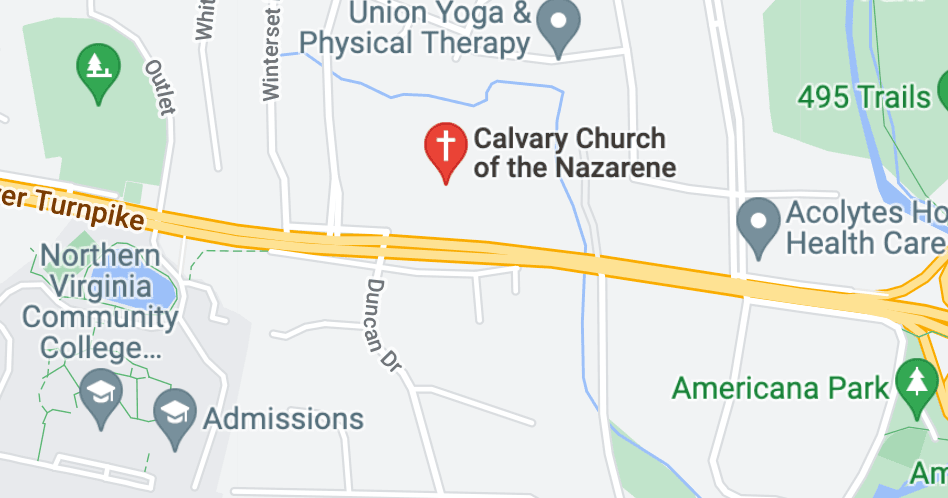 What do we believe?
At Calvary we believe that our love for God will inform our love for others, as we serve each other and our community. To learn more about our purpose and beliefs, click the button below. Please feel free to ask questions if you would like more information!
What about my kids?
We believe that kids should have a blast at church every single week - and at CalvaryKids, we make this a priority. The other thing we make a priority is your child's safety. Because of that, we have a detailed check-in process for our CalvaryKids program the first time that you visit. You'll want to leave yourself an extra ten minutes to get signed in for the CalvaryKids experience. CalvaryKids is offered for toddlers - 5th Grade.
Our nursery area is available for families with newborns. The nursery is set up with video and audio of the service, so that parents can remain in the room with their kids and are free to use that space to feed, change, and play with their children.
Let us know you're coming
Ready to check out Calvary in person? We can't wait to meet you! Simply fill out the form below and we'll be sure to connect with you!
Also, stop by the welcome table in the lobby to pick up your gift!